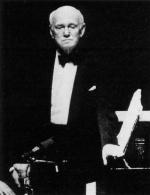 Svyatoslav Richter
Svyatoslav Richter Collection
Svyatoslav Theophilovich Richter (1915--1997) was a lifelong friend of the Pushkin Museum of Fine Arts. He held his first concert at the museum in 1949 and often visited the permanent exhibition. In 1981, he conceived the idea of the [December Evenings] festival of music and fine art.
Svyatoslav Richter believed that music and the plastic arts were inherently linked. All his acquaintances recall the exact and unexpected visual images evoked in him by works of music. Vera Gornostayeva, a fellow student of the famous pianist Heinrich Neuhaus, recalled: "Richter's universalism did not come from Neuhaus. Neuhaus was extremely sensitive towards words. Richter's world was painting and the theatre."
All his life, Richter invested his energy and fantasy in holding domestic festivals and artistic evenings of theatre, music and painting. Alfred Schnitke wrote: "He is a performer, an organiser of festivals, the first to spot and support talented young musicians and artists, a connoisseur of literature, theatre and cinema, a collector, a visitor of exhibitions and openings, an artist and director. When possessed by an idea, his temperament removes all obstacles in his path."
Svyatoslav Richter's contribution to the life of the Pushkin Museum was not only confined to holding the [December Evenings] and his own participation in concerts. The musician also donated his collection of painting and graphic art to the museum, now on show in Room 302. Strictly speaking, this body of works is not a collection, as it mostly consists of works presented by artist friends. Richter bought several works himself, in order to support the artists. The Richter collection includes more than 180 paintings and drawings, mostly dating from the twentieth century. The collection also helps to convey the creative environment surrounding the pianist's own art.
The works of Robert Falk are among the finest in the collection. Svyatoslav Richter recalled: "From 1942 onwards, I used to visit Falk at home. I remember his quiet and wise advice -- never hurry, leave everything until later. This advice covered everything, including music. I retain my deep friendship and devotion for an artist who was always faithful to himself. Completely immersed in art, he overcame time and space. That is why his paintings are always so lively and full of movement. The more you look at his works, the more treasures you discover."
Two of the six paintings -- [At a Dacha] (1911) and [Vitebsk] (1921--22) -- rank among Robert Falk's best works. Richter also owned two outstanding and extremely different graphic portraits from the 1920s. [Portrait of Naryshkina] (1920s) is a small sketch of a woman Falk met by chance in Paris -- a combination of deep drama and a sense of personal dignity. [Portrait of Raisa Idelson] (1920s) depicts the artist's model and second wife. Richter dates this work to 1922 or 1923, believing that it captures the unique essence of this period. The smooth lines and melting contours add to the impression of femininity and refinement.
The Richter collection includes the painting and graphic art of his friend Anna Troyanovskaya -- several landscapes and such graphic portraits as [Lialia Scriabin] (daughter of the composer Alexander Scriabin), [Svyatoslav Richter as a Boy] and [Tama Vishnevskaya] (daughter of the actor Alexander Vishnevsky). Richter used to visit Anna Troyanovskaya to play on her piano. He also learnt pastel painting at her house. The pianist later described her as a "talented nature and artist, a student of Valentin Serov, Leonid Pasternak and Henri Matisse, a passionate fan of El Greco and an amateur singer."
The show of works includes landscapes, still-lifes and portraits by Vasily Shukhayev (1887--1974), whom Richter first met in Tbilisi in the 1940s. A painter and theatrical designer, Shukhayev led a difficult life. His early works, many of them painted jointly with Alexander Yakovlev, are rare examples of the Russian Neoclassicism of the 1910s. In 1917, Shukhayev joined the World of Art. He lived abroad from 1920 to 1935. Returning to the Soviet Union in 1935, Shukhayev was immediately arrested and exiled. In 1947, he was invited to work as a theatrical designer in Tbilisi. He also taught drawing at the Tbilisi Academy of Arts. Richter met the artist on one of his trips to the Georgian capital.
Among Vasily Shukhayev's graphic works is [Portrait of the Singer Nadezhda Kharadze] (1949). Richter recalled: "Nadezhda Kharadze is a well-known opera singer, a talented actress and one of the most beautiful women in Tbilisi. Her portrait is an example of the post-war elegance of the Georgian capital." One of the most expressive works by Vasily Shukhayev in the Richter collection is [Portrait of the Pianist Valentina Kuftina] (1952). Richter wrote: "Although Shukhayev did not flatter Valentina Kuftina, her portrait expresses the passionate demands she makes of herself, her friends and the world. Complete integrity."
The Svyatoslav Richter collection contains paintings by two Georgian artists -- Elena Akhvlediani and Keto Magalashvili -- who were personal friends of the musician. Akhvlediani is represented by urbanscapes of Tbilisi, conveying the colourful aroma of the old town. Magalashvili is represented by several portraits, including a portrait of Richter's teacher, the famous Soviet pianist [Heinrich Neuhaus] (1952). The Georgian theme is continued by the outstanding graphic art of Lado Gudiashvili, the theatrical designer and portraitist who painted the [Kinto Life] series dedicated to old Tiflis.
The Richter collection includes three watercolours painted by Arthur Fon Vizen in the 1950s and 1960s. Two works -- Portrait of Imast (1960s) -- were presented to the musician by the sitter.
Dmitry Krasnopevtsev was a friend of Svyatoslav Richter and one of his favourite artists: "Krasnopevtsev is, in my opinion, one of the most talented artists in Moscow. His world, the world of the still-life, is vividly individual and expressed in a serious canon." Richter always tried to help the artist. On two occasions, in 1962 and 1975, he held exhibitions of his works in his own apartment. Krasnopevtsev's works from the Richter collection hang near the entrance to the Dmitry Krasnopevtsev Studio in the Museum of Personal Collections.
The Richter collection contains individual works by famous Russian artists -- Natalia Goncharova's graphic landscape [Linen Factory] (c. 1905), Martiros Sarian's [Armenia], Maximilian Voloshin's landscape [Koktebel] (1928) and Pyotr Konchalovsky's [Portrait of the Verigin Pianists] (1918). Now hanging in the Svyatoslav Richter Memorial Museum, the latter work is one of the artist's best works. The Richter collection also includes [Crimea. Koktebel] (1925) -- a landscape by Alexander Gabrichevsky, a leading art historian, amateur artist and friend of Svyatoslav Richter. The musician also owned works by Gabrichevsky's wife Natalia, painted in an ironic [lubok] style.
The Richter collection includes works by Western artists. [Portrait of Svyatoslav Richter] (1965) was presented to the musician by the famous Austrian Expressionist Oskar Kokoschka, who first made a name for himself with his "psychological portraits" (1909--14). Richter recalled: "Kokoschka came to the Grand Hotel in Lucerne to draw me. I was sweating over a fugue from Beethoven's Hammerklavier sonata opus 106. It was hot and difficult. A sumptuous and wild personality, Kokoschka made approximately ten sketches, rapidly and boldly. He often extracted a whisky flask from his pocket, took a swig from it, and made me take a drink. A unique personality with his very own charm, scope and talent. Of the ten studies, I selected what I considered to be the most interesting one, although everyone else protested, preferring other sketches. But this work conveyed the moment of finally getting to grips with the hardest work written for the piano."
The Western section of the collection contains Pablo Picasso's lithograph [Jolio-Curie] (1959), presented to Richter by the artist: "I once visited Picasso's house in Mougin. I will never forget him and his burning eyes, like hot coals. Although he was over eighty, he was the youngest of us all … In memory of my visit, I have a portrait of Frédéric Jolio-Curie, drawn by the genius of his exact pen and unwavering hand."
The Richter collection includes Jean (Hans) Arp's [Composition] (1932) and Bruno Goller's [Mirror]. The latter work was first shown to Russian viewers when Richter helped to organise the German artist's one-man show at the Pushkin Museum. [Composition] (1970) was painted by the American artist Alexander Calder.
A large part of the collection consists of more than fifty pastels made by Svyatoslav Richter himself between the 1950s and 1970s. The musician was also a talented artist. His sense of colour and ability to convey movement were noted by many professionals, including Robert Falk and Anna Troyanovskaya. Although he himself had toyed with the idea of becoming an artist, he was always extremely reluctant to show his works to others. Troyanovskaya wrote that in his youth, he had to decide what was he more talented at -- music or drawing. In the 1940s, Richter studied art under Robert Falk: "Falk had the kindness to guide me in my desire to draw." He worked in pastel, making drawings from memory and accurately reproducing details of things he had seen. His pastels include [Bearing a Balloon] (1950s), [Moon. China] (1950s), [Ninochka and Mitka at Rzhevsky] (1950s), [Twilight at Skatertny] (1950s) and [In the South of Armenia] (1950s).
Richter once said: "I now have a second home and my own month -- December -- in Moscow … I need not worry, now that my pictures have a secure place." The spirit of Svyatoslav Richter lives on in his room at the Museum of Personal Collections.
Works from the Svyatoslav Richter collection can also be seen at his former apartment on Bronnaya Street, which recreates the surroundings and atmosphere of the life of the great musician. This memorial flat is also a branch of the Pushkin Museum of Fine Arts, where excursions are given, music is performed and small exhibitions from the Richter collection are held.